In 2021, the Stop Hunger Foundation's regional celebrations are back with a bang! Coinciding with National Volunteer's Week, a one-off Stop Hunger Week event will be taking place from 1 to 7 June 2021. With activities galore, including opportunities to sign-up to in-person volunteering and the last ever BIG Sodexo Quiz, Stop Hunger is giving Sodexo colleagues the chance to take part where they can.
In 2020, the Stop Hunger Foundation had to make the sudden decision to cancel its annual Stop Hunger Day celebrations. The Foundation has been fortunate to see many Sodexo colleagues continue to fundraise and volunteer helping to support those who need it most.
As an opportunity to bring back regional celebrations, a one-off Stop Hunger Week event will be taking place between 1 and 7 June 2021. Coinciding with this year's National Volunteer's Week, the event's organised activities will give every Sodexo UK & Ireland colleague the chance to take part.
Show your heart and play your part
Preparation for regional organised activities are well under way, including opportunities to sign-up to in-person volunteering and the last ever BIG Sodexo Quiz, hosted once again by Sodexo Ambassador, Matt Dawson. If you're a Sodexo employee, make sure to keep an eye out for further details of these organised activities over the coming weeks.
This week we're kicking things off with a Stop Hunger raffle. At £5.00 per ticket, those who enter have the chance to win one of four fantastic prizes:
First Prize: A two-night stay at the Dundas Castle Boathouse
Second Prize: Triple black over-ear Bose headphones
Third Prize: Gold Dinner Experience for two with Bateaux London
Fourth Prize: Garmin Venu SQ Music Smartwatch
If you'd like to take part, click here to pick up your tickets and raise money for Stop Hunger. Anyone can enter, so feel free to share this with your colleagues, friends and family. Please note the raffle works best through Google Chrome.
Other easy ways to support Stop Hunger include signing up for Sodexo's weekly employee lottery, Your Lucky Number. For just £1 a week, you could win up to £1,200! Find out how to participate in Your Lucky Number here.
Get ready for Stop Hunger Week
The Stop Hunger team have also been busy behind the scenes creating new resources to support everyone's local volunteering and fundraising efforts. One big new addition is a QR donation poster, giving customers, clients, and colleagues alike the opportunity to donate any amount to Stop Hunger on the go – the modern day charity bucket has arrived.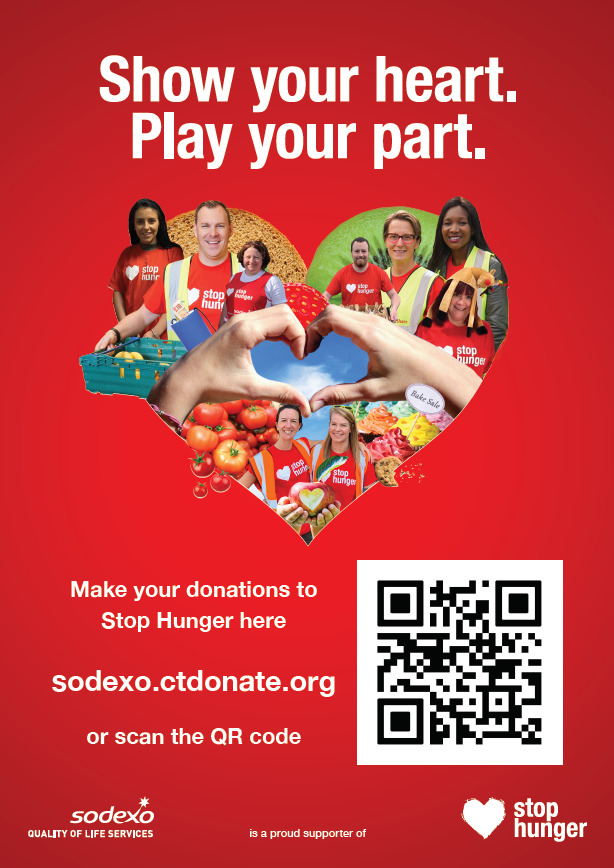 You can download the new QR donation poster and even more Stop Hunger resources right here on the Stop Hunger website.
We're encouraging everyone to get involved with Stop Hunger Week either through volunteering, fundraising, or both! if you're a Sodexo empoyee, get together with your colleagues and start thinking of ways you can play your part.
If you're not sure how to get started, contact your local Charity Champion, and ask where you can help.
Volunteering on your radar? Check out the Goodness Platform over the coming weeks for volunteering opportunities. Stop Hunger's Charity Champions can now also create opportunities so others can take part - ou can even register a group of your colleagues!
Not feeling the fundraising love? Take a quick read of the Foundation's new A – Z of fundraising guide – there's plenty of ideas for everyone.
With four weeks until Stop Hunger Week, everyone has time to get involved. We can't wait to see how you're going to show your heart.