To share and celebrate our success, we are publishing our 2019 annual report – taking a look back at the impact of our work and revealing that for the first time ever the foundation has raised more than £500,000 in one year.
2019 was another fantastic year for the Stop Hunger Foundation. Over the year we took even greater steps to achieve our goals of tackling hunger and malnutrition, and supporting communities affected by food poverty.
Each year, we take time to reflect and review our activities, and celebrate our successes with our annual report showcasing the where, who and how we are changing lives.
For the first time ever, 2019 saw Stop Hunger contributors help us raise more than £500,000 – 27% higher than the previous year. This is a fantastic achievement and means that moving forward in 2020, we will be able to engage with even more organisations to directly benefit their service users.
In 2019 we continued our volunteering efforts by organising, with the support of our charity partners, volunteering opportunities throughout the UK and Ireland. In total, Sodexo colleagues, suppliers and even some of clients helped contribute over 4,000 hours of volunteering time – a fantastic achievement which has helped countless communities in which we operate.
Along with the celebration of Stop Hunger's success, comes a massive thank you of our supporters.
Without your help and contributions, in 2019 we would not have been able to help fund 13 charities and the 300,000 beneficiaries that they support.
We encourage you to download our annual report (click here) and review our progress in the roadmap below to see just where your support and our actions make a difference.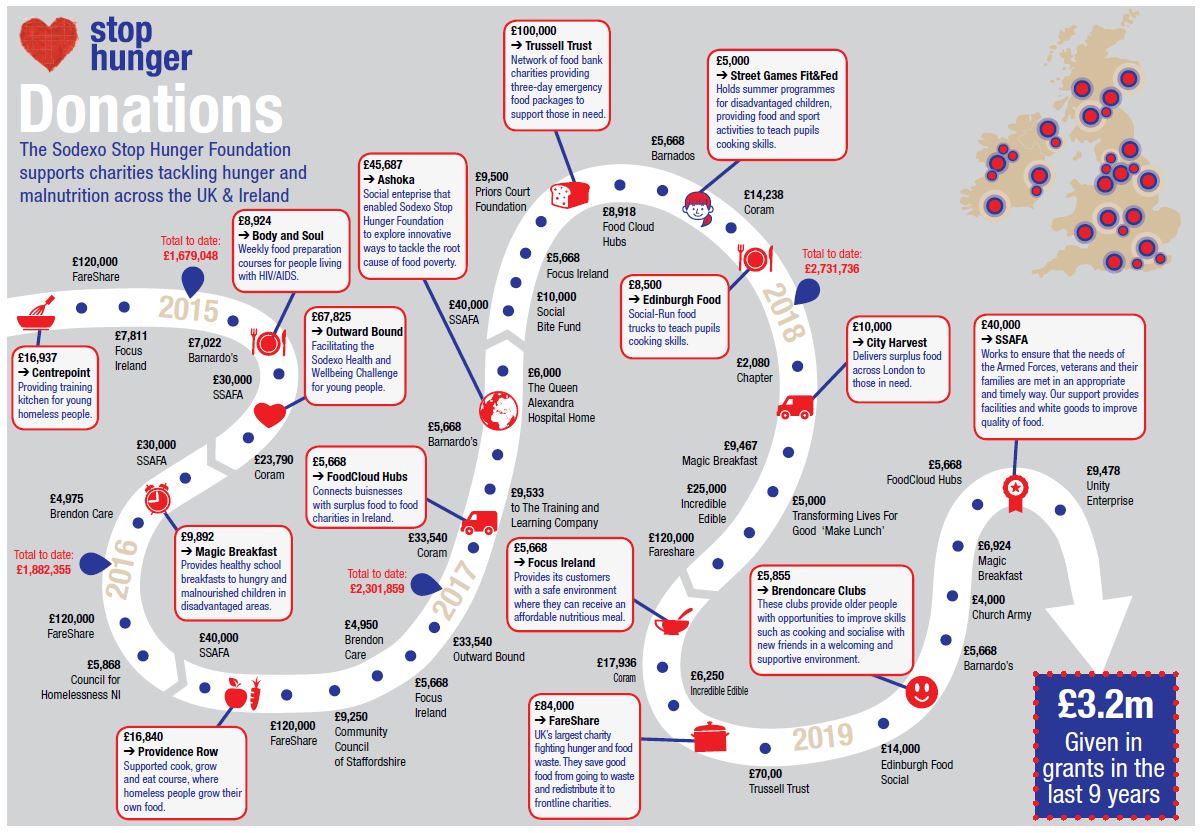 On 10 March, Sodexo colleagues who have gone above and beyond in their Stop Hunger efforts will be recognised at our annual Stop Hunger Awards, taking place at the Sodexo Foundation Dinner. The evening is also an opportunity to raise funds for our continued work to tackle hunger and malnutrition.
You can read more about the Stop Hunger Awards in this article written about the Sodexo Foundation Dinner 2019.
Stop Hunger Report 2019