Our Long-term charity partner, SSAFA, highlight how our collaboration with them has provided essential support for veteran's and their families.
The number of emergency parcels distributed from food banks is rising.
In January, the Environmental Audit Committee published their latest report on the Sustainable Development Goals in the UK: Hunger, malnutrition and food insecurity in the UK. One of the major findings was that food insecurity is significant and growing, with UK levels among the worst in Europe, especially for children. Chair of the Environmental Audit Committee, Mary Creagh MP, said that:
"The combination of high living costs, stagnating wages and often, the rollout of Universal Credit and the wider benefits system, means that levels of hunger in Britain are some of the highest across Europe. We found that nearly one in five children under 15 are living in a food insecure home".
The charitable sector continues to contribute approximately £9 million to feed the UK's most vulnerable citizens and the very kind donation from the Sodexo Stop Hunger Foundation is vital in helping SSAFA, the Armed Forces charity to achieve their mission:
Relieving the need, suffering and distress amongst the Armed Forces, veterans and their families in order to support their independence and dignity.
Collaborating with Sodexo and receiving funding from the Stop Hunger Foundation has ensured that SSAFA has continued to give appropriate, affective and timely support to those veterans and their families that are in need. As Mary Creagh suggests, the rollout of Universal Credit has had a significant and negative impact on the lives of some of our already vulnerable veterans and their families.
In 2018 SSAFA was able to pledge the full £40,000 grant towards over 100 veterans and their families around the UK who came to SSAFA for help, and where an urgent need was identified by SSAFA caseworkers. 22 of those cases were directly assisted with essential food and groceries negating the need for them to visit a local food bank facility. 17 were provided with white goods including fridges and freezer with the remainder of cases helped with maintaining a household and the prevention of homelessness and subsequently becoming trapped in a cycle of homelessness and food poverty.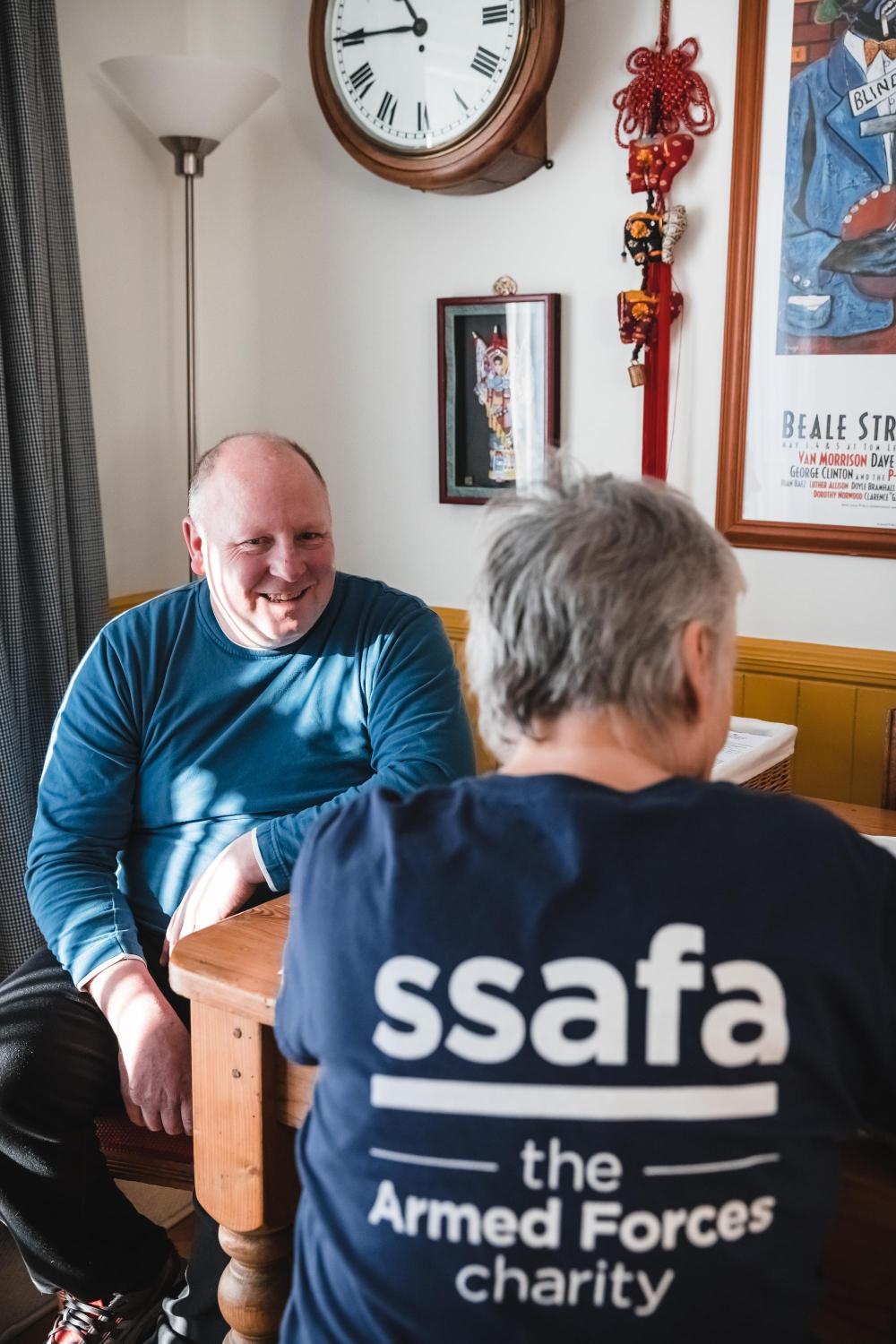 Already in 2019, SSAFA has pledged £7,180.60* from the Stop Hunger Foundation grant towards 34 veterans and their families in need, 7 directly with essential food and groceries. Sally Williams is SSAFA's Welfare & Volunteer Services Manager, and it's her team that distribute the funds to those in need. Sally says:
"After 24 years in the Army myself I wanted to work for SSAFA as I know some of the struggles that military families and veterans can face. It is so amazing to hear that the work we do using the Stop Hunger Foundation grants is making such a difference to those we support. When we receive thank you letters and cards directly from those such people it can be quite emotional for me. They have taken time and effort to say thank you and whilst that isn't needed, it really is rather lovely to hear."
The support that the Stop Hunger Foundation provides to the UK veteran community and their families is exceptional and really makes a significant and positive difference to those we assist:
"My name is Mr H and I served with the Coldstream Guards. In November 2009, I was seriously injured and lost both of my legs above the knee. I am writing to say a massive thank you for the grant your charity gave me. I very much appreciate this and it is a huge weight off my shoulders to receive this kind of support"
"I just wanted to say thank you. The assistance I received was a great help and I am very grateful. I am now in my own home and wouldn't be here without your assistance. Mrs B"
Together, SSAFA and Sodexo can continue to deliver crucial support to veterans and their families enduring food poverty and reducing their need for food bank provision.
*Up to the end of February 2019
Find out more about SSAFA here.