St George's Crypt, a Leeds based charity that works to support the homeless, the vulnerable and those suffering from addiction, has received a £5,000 donation from the Stop Hunger Foundation.
Located right in the heart of Leeds, St George's Crypt was founded in 1930 at the time of the Great Depression. Its work began by providing food and shelter to vulnerable adults. Over 90 years, its services and impact have evolved to help the homeless, the vulnerable and those suffering from addiction with practical support and care to transform people's lives, regardless of their circumstances.
Since the start of the global Coronavirus (Covid-19) pandemic, the Crypt's services have changed dramatically to support those in need of their services more than ever.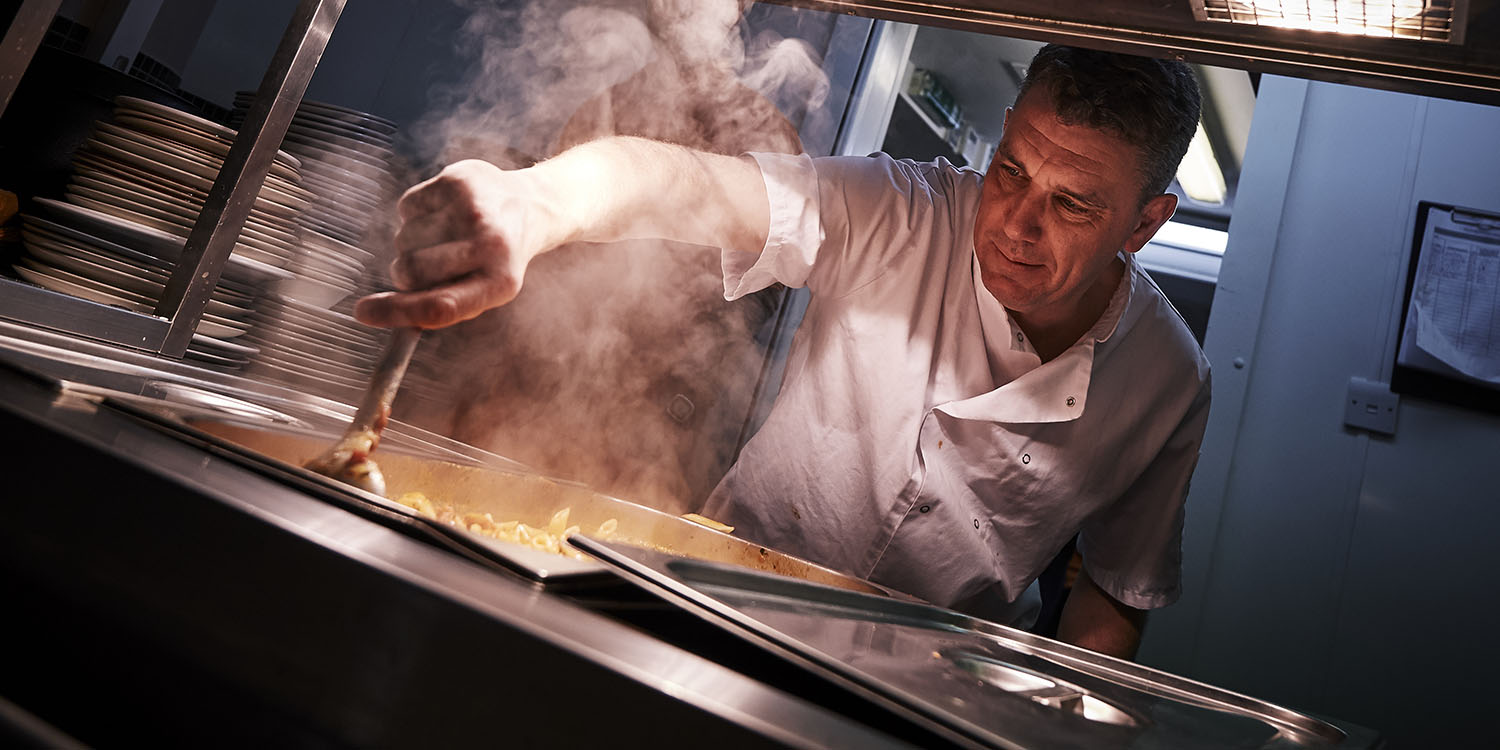 The charity already provides regular accommodation for 15 residents in single bedrooms, but alongside this work the charity has also been supporting 80 temporary hotel residents who were either formerly in dormitories or street homeless. This additional work keeps those in the hotel safe by accommodating social distancing measures but means the Crypt is now also supporting the hotel staffing whilst providing the temporary residents with hot meals.
The Crypt's kitchen continues to be kept busy with charity workers and volunteers providing meals every day for their regular residents as well as a take-away service for between 35 to 50 people whilst also preparing and delivering hot meals for the hotel residents.
Through its Growing Rooms residential recovery programme, it provides support to 20 men helping them to become free from addiction through therapeutic group sessions three times a week, with further support from their peers by living independently in shared recovery houses.
In addition, the Crypt's Health and Wellbeing programme provides access to all service users to exercise, physiotherapy, an optician service, dentist and hairdresser. After introducing the optician service, the first round of eye tests resulted in 72 people needing glasses for reading. The programme's Dentaid Van sees around a dozen people on each visit, all requiring some form of emergency dental care.
Michelle Hukin, Regional Operations Manager for Sodexo's Integrator property management team and one of the comapny's Charity Champions, supported the charity's grant application. She comments:
"This year more than any, I've really thought about my local community and what I can do with my Sodexo work colleagues to make a difference to local people. St George's Crypt is a lifeline to people in crisis, helping them access what they need to transform their lives, and build a better future. There are so many stories of the Crypt's positive impact on individuals and the wider community of Leeds. It is wonderful to be able to help the Crypt run their adapted lunches food service during Covid-19 and explore how we help them in other ways in the future."
The grant made by Stop Hunger will go to specifically to support the Crypt's meal services that feed 130 homeless and vulnerable people across the Leeds area.
On the news of the donation, St George's Crypt Head of Fundraising, Cheryl Harrington, said:
"We are very grateful for the support from the Stop Hunger Foundation. This year we celebrate 90 years since we were founded. At the start of the year we had big plans for fundraising to fund our services which include the provision of nutritious meals seven days a week, three meals a day for 15 residents at the Crypt; and lunch for 35 day-service users. Since 1 September we have been providing hot meals and sandwiches to the 80 homeless people who are still accommodated temporarily in hotels in the city.
"As with the rest of the world, we are facing unexpected challenges and all of our plans have changed. Our main loss of income has been due to cancelled mass participation fundraising events. The grant will support our crucial meals service, and specifically our two chefs who create nutritious meals from the food donations we receive, so they often have to be very inventive."
Michelle and her Sodexo colleagues are keen to see this become the start of longer-term relationship, exploring how they can help St George's Crypt through volunteering and other support.
You can watch a virtual cheque handover starring Michelle and Cheryl below: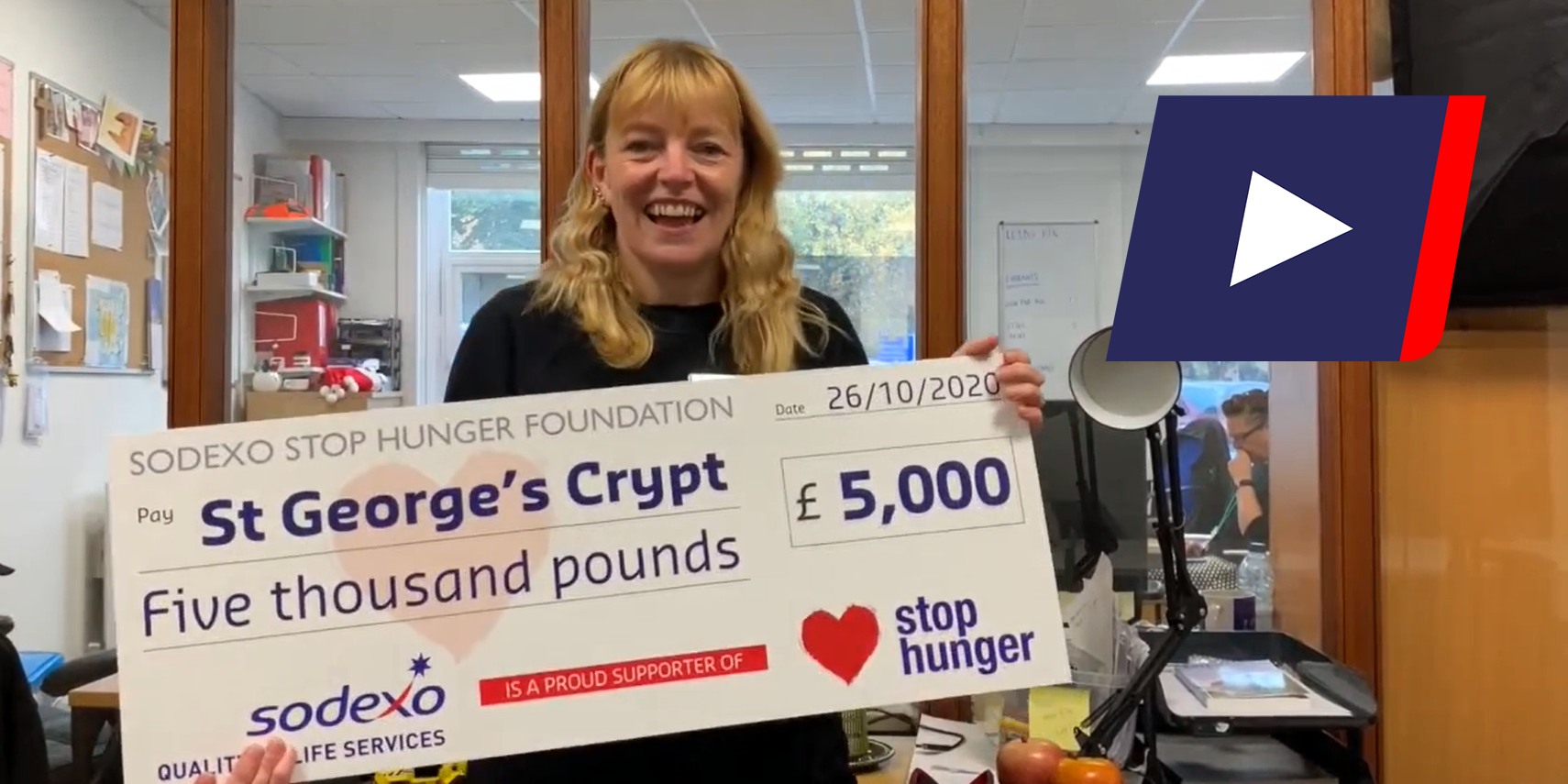 If you are a Sodexo employee and would like to make a grant nomination for a charity close to your heart, please contact the Stop Hunger team via email or complete the form here. Please be aware there is an official process by which Stop Hunger choose charities to support.