Congratulations to our 2020 Stop Hunger Award winners! In a slightly different award ceremony from the usual Sodexo Foundation Dinner, our Sodexo colleagues are recognised virtually in a video presentation.
Every year, thousands of Sodexo colleagues join forces to support the Stop Hunger Foundation through charitable giving, fundraising events and volunteering. 2019 was a record-breaking year for Stop Hunger. For the first time ever, the Foundation raised more than £500,000, making significant donations to 13 charity partners and impacting the lives of more than 300,000 beneficiaries.
This amazing progress has sadly been stalled by the global Coronavirus (Covid-19) pandemic, along with the opportunity to celebrate those who have and continue to support Stop Hunger activities.
The Stop Hunger Awards is an annual event that was originally due to take place in March 2020 at the Sodexo Foundation Dinner. Unfortunately, the event had to be cancelled in order to keep people safe, as Covid-19 began to take hold across the region. However, it is still as important as ever to celebrate the winners and their amazing contributions.
Four awards were up for grabs this year, and a multitude of nominations were received from right across the Sodexo UK & Ireland region. The award categories are:
Volunteering award
Stop Hunger Day initiative award
Most innovative fundraising idea award
Best Charity Champion award
In a slightly different award ceremony to what was planned, the award winners have been announced virtually in a video created for Sodexo employees.
The video, hosted by Sodexo Ambassador Matt Dawson, replicates the staging of our usual awards presentation. With a speech from Stop Hunger chair and Sodexo European Director of Legal Affairs Gareth John and awards presented by Sean Haley, Stop Hunger trustee and Sodexo UK&I Region Chair, this is a video not to be missed.
To find out who has won in our 2020 Stop Hunger Awards, please watch the video below:
As the Foundation looks towards the future and life after lockdown, we are reminding everyone that Stop Hunger provides an opportunity for us to come together, and as Sean says, "play our heart" to support each other and those most vulnerable in our society.
Congratulations once again to this year's Stop Hunger Award winners, and a huge thank you to everyone who has supported the Foundation over the past year.
Of course, we hope that next year we can welcome you to 2021's rendition of the Sodexo Foundation Dinner and the presentation of our Stop Hunger Awards, however, our continuing priority is the health, safety and wellbeing of all of our supporters.
If you are a Sodexo employee and want to be involved with our activities over the coming months, please check Stop Hunger's Your_Sodexo page for continued updates and guidance so you can safely get involved.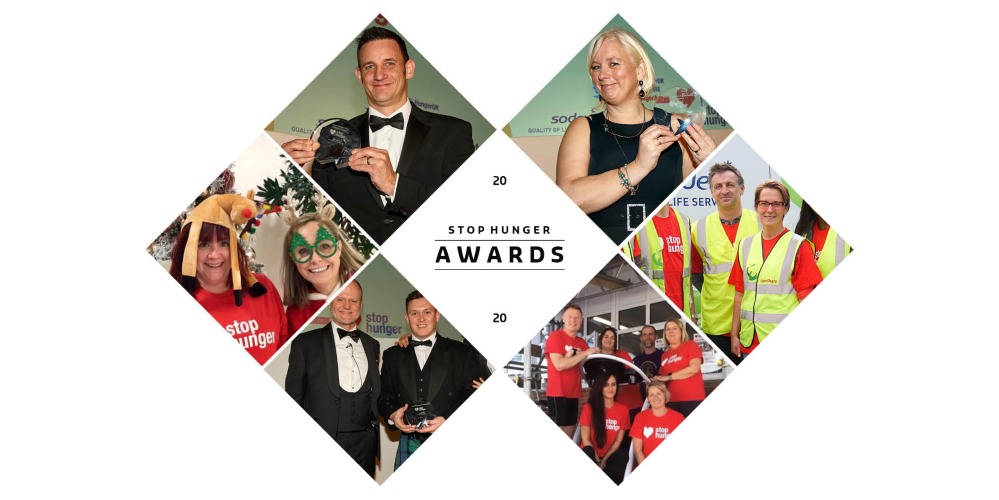 Stop Hunger Awards 2020 graphic