Each year, Sodexo launches an annual winter fundraising activity to support Stop Hunger and it's charity partners. In December 2020, Sodexo introduced Festive 5 - the chance for Sodexo colleagues to get moving 5 km, support their mental wellbeing and raise money for good causes over the festive season.
Sodexo colleagues came together throughout December 2020 to support charitable activities. From reverse Advent Calendars with The Trussell Trust, virtual raffles, food donations and more, hundreds of you have and continue to support good causes even after an extremely difficult year.
On the back of three BIG Sodexo Quizzes last year, Sodexo's Diageo contract team wanted to continue their own run of successful fundraising activities with Festive 5 - a regional festive Stop Hunger fundraiser that puts mental 'elf' in the spotlight.
To take part in Festive 5, you had to safely run / walk / dance / skip 5 km, donate £/€5 to Stop Hunger where possible and nominate 5 colleagues to do the same – simple right!
With the support of all those who took part, and of course those who donated, Festive 5 raised more than £2,700 for the Stop Hunger Foundation. These funds will be used to support the most vulnerable in our local communities via Stop Hunger's charity partners.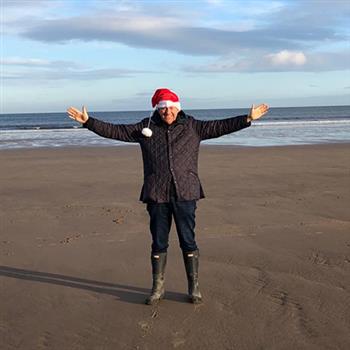 Pictured: Sean Haley, Region Chair for Sodexo UK & Ireland, completing his Festive 5
Joanna Watt, Sodexo Account Communications Manager for the Diageo contract, comments: "We're absolutely blown away by the amount raised by our colleagues across the UK and Ireland. Everyone has felt the pandemics pinch in some way, so to still raise this amount for Stop Hunger is incredible and very humbling.
"It has been so heart-warming to see photos and hear stories of colleagues who've been there for each other as they took part in Festive 5 together. This initiative relied on individual and team self-motivation at the end of a very challenging year, and we couldn't be prouder."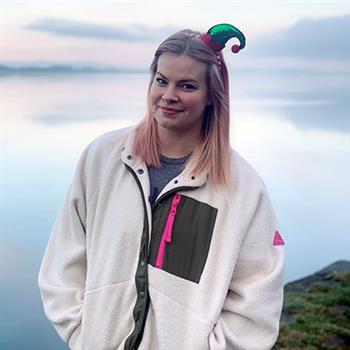 Pictured: Jo taking part in Festive 5
As incentive to get everyone moving, three Festive 5 prizes were also up for grabs. We can reveal the winners of these prizes are:
Top fundraisers - the Johnson Matthey Royston team who helped raise over £1,500!
Best time - Aaron Cranfield from Brand & Communications with a time of 27 minutes and 23 seconds.
Best costume - Daryl a.k.a. 'The Grinch', son of Kathleen Kew from Sodexo's BAE contract.
Festive Spirit - Schools & Universities sales team and the 'Buena Vista Social Club' for getting together remotely, wrapping up warm and having a socially distanced chat.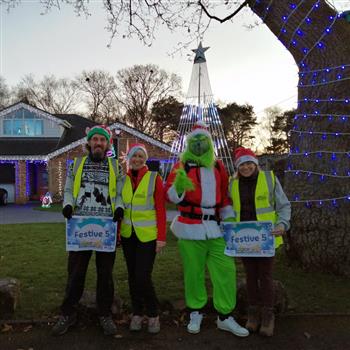 Pictured: Daryl a.k.a. 'The Grinch', son of Kathleen Kew from Sodexo's BAE contract and other Festive 5 particpants
Congratulations to all three winners and thank you to everyone who took part and donated for Festive 5 – you showed up when your mental 'elf' needed you and will be helping others in need.